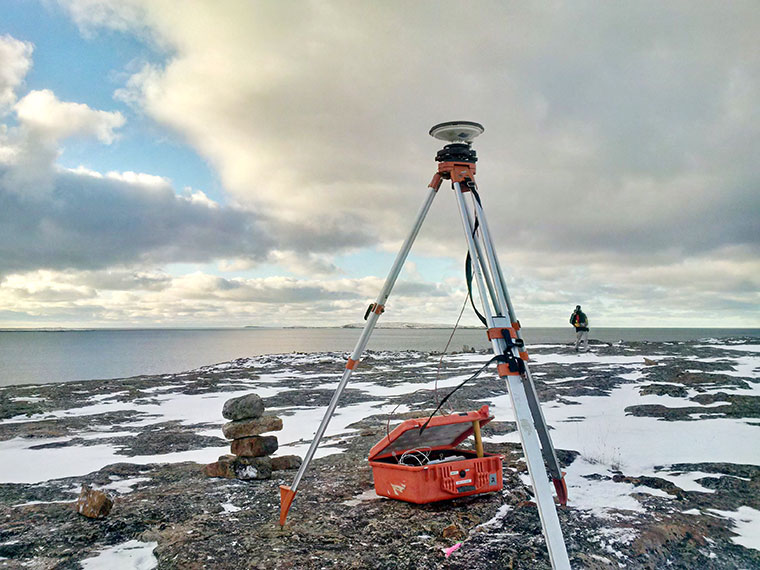 This past fall, we had a true Arctic adventure. As a follow up to a combined photo and LiDAR survey of 14 villages in Nunavik, Quebec, we conducted a geodetic survey to verify our airborne data. As there are very limited commercially scheduled flights between these villages, we had to use our own aircraft to transport the crew from place to place. We then contacted the local authorities for access and logistical support – and as quickly as possible – collect the data for a network of survey points. On our prototype mission in Kuujjuarapik, we took 2 days to complete one survey. During this trip we managed to execute up to 2 surveys in one day including travelling from location to location.
As you can plainly see, the scenery was as bleak as it was awesomely beautiful. Here, north of the tree line with the first snows of winter, the raw and rugged landscape truly shows the brute origins of our planet. Ice scarred slopes of frozen lava giving witness to the most primordial of forces which have shaped this planet.
However, as you can also see from the one shot of Salluit, the tendency of village builders to show the world who they are is not restricted to Hollywood. Even the young lad in the picture can be seen in a previous blog post in front of that famous billboard, showing one more time how a career at Airborne leads to some of the most varied travel experiences imaginable.